CONTACT US

HERO PRODUCTIONS
MAKING OF: LOVE ON ICELAND
For than a decade, some of the biggest names in cinema have been drawn to Iceland to take advantage of its extraordinary terrain. The country's otherworldly quality has inevitably led to Iceland becoming a science-fiction favourite. Star Trek Into Darkness (2013), Oblivion (2013), Interstellar (2014) and Star Wars: The Force Awakens (2015) are just some of the futuristic blockbusters that have been shot in Iceland, while dystopian TV drama Black Mirror (2011-) also found the unspoiled nature of the country's scenery to be the perfect backdrop. But in recent times a new trend has been emerging: a desire to put Iceland itself centre stage.
"Instead of using it as an extra-terrestrial planet, filmmakers are starting to use Iceland for its real scenery," says Bui Baldvinsson, producer and owner of Hero Productions. "We have features, short films and TV series coming to Iceland and making their stories about Iceland itself, and happening in Iceland, which is a very big change from the last 10 or 15 years."
This trend is encapsulated by Hallmark's Love on Iceland (2020), in which the location is a pivotal part of the story. The story starts with American podcaster Chloe (Kaitlin Doubleday), who is looking for new ideas. At the suggestion of her friend Isabella (Patti Murin) she reunites her college travel group for a trip to Iceland, But things get complicated when Chloe's ex, Charlie (Colin Donnell), turns up as a late arrival to the party. As the trip unfolds, the group discover romance and inspiration, with the natural beauty of Iceland being the catalyst.
Patti Murin and Colin Donnell are married in real life, although love does not blossom between their characters in the movie.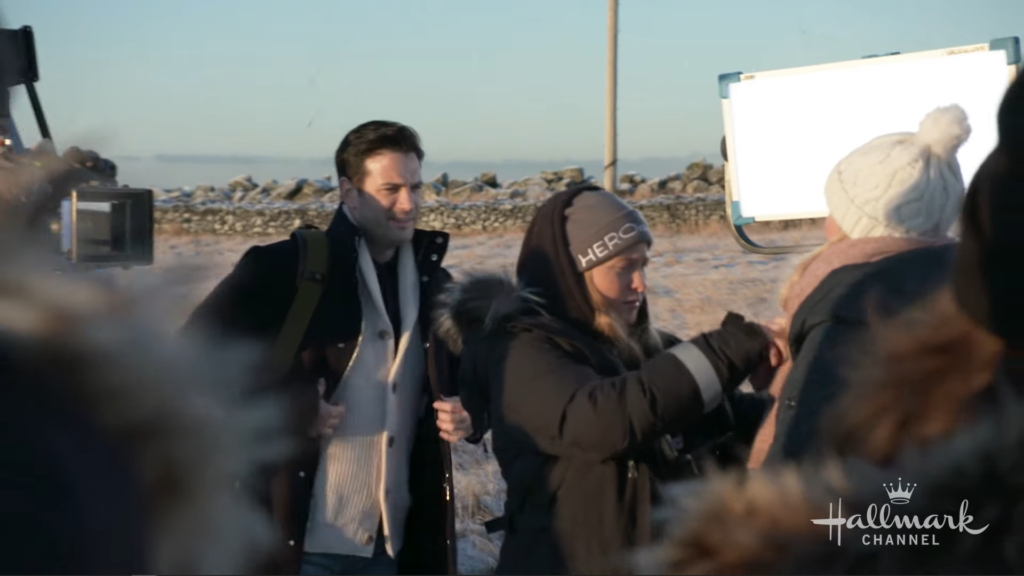 The idea of shooting in Iceland came from executive producer Andrew Gernhard of Synthetic Cinema International. "Two years ago, I did a road trip with my now fiancée," he says. "Neither of us had been to Iceland and it was one of her goals to see the Northern Lights. We spent about 10 days there and we saw the Northern Lights. We followed our own path all around the country. That led to the notion of shooting a movie that's also a road trip around Iceland."
Gernhard contacted Samantha DiPippo, senior vice-president, development, Crown Media Family Networks, who loved the idea. "We've shot in a lot of really gorgeous and beautiful destinations around the world, and what we try to do is showcase an area at its best," DiPippo says. "That was our goal with Love on Iceland. It shows the beautiful activities and excursions that you would do in the winter, from the ice caves to the glaciers to the waterfalls. It makes you want to go there."
With the exception of a few cityscape stock shots, the entire movie was filmed on location in Iceland, which even doubled for Chicago in the opening scenes. The five central cast members flew in to Iceland from the US, along with the director Clare Niederpruem, but otherwise the crew and other actors were Icelandic. To make this possible. Hallmark brought in Hero Productions to provide essential local knowledge and experience.
"Iceland has very strong crews because, since the boom when the Hollywood films came in, everybody knows each other, helps each other out and lends a hand," Baldvinsson says. "We are extremely used to the Icelandic conditions, working with the weather, the landscapes and the snow. Whatever you throw at our crews, they know how to cope. We shoot in every single type of weather – it doesn't matter."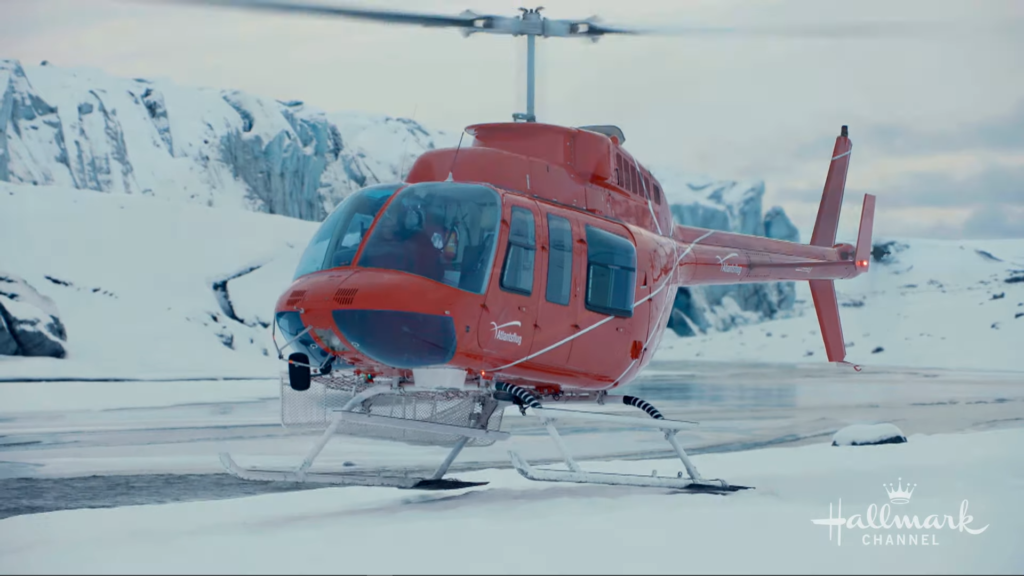 The first day of shooting for Love on Iceland brought the first challenge: reaching an ice cave in a stunning yet inaccessible glacier. In the end, two helicopters were used to transport the cast and crew to the location. Baldvinsson says that helicopters and modified jeeps are generally required to reach the glaciers. And shooting in ice caves requires extra planning because they alter over time. "One of the things I didn't know about Iceland is that the ice caves are different every year," DiPippo says. "You have to wait until they form, figure out where they're going to be and then work out how you're going to deal with that from a production point of view."
She adds that, when shooting in ice caves, handheld cameras are used due to lack of space: "We typically try not to shoot that way – We prefer a more theatrical look – but, with Love on Iceland, we managed to make it look as steady as possible. The crew in Iceland was nothing short of phenomenal." When filming inside ice caves, the LED lights are powered by large, portable car batteries rather than petrol generators, both in the interests of the environment and to protect the quality of the audio.
Next stop on the fictional friends' sightseeing trip was Jökulsárlón Glacier Lagoon in the south-east of Iceland, one of the country's natural wonders and famous for its sense of tranquillity as ancient icebergs slowly melt into the lake. The lagoon has been featured in scenes from Batman Begins(2005), Lara Croft: Tomb Raider(2001) and two James Bond movies. Besides the lagoon is the breathtaking Diamond Beach, so called because of the sparkling cubes of ice strewn across the beach, contrasting with the volcanic black sand.
The reunited friends start to see things differently as they continue their tour with a visit to the Secret Lagoon, a geothermal pool near to Reykjavik, and take in the magical Grófarlækjarfoss waterfall. As their road trip nears its end, the friends spend a night in the Bubble Hotel, hoping for a glimpse of the Northern Lights. Located in a forest on a farm, the Bubble Hotel's guests sleep inside one-bed see-through igloos. "So you can be lying in bed watching the stars and see the Northern Lights if you're lucky," Baldvinsson says. "They call it the Five Million-Star Hotel because you can see all the stars above. It's a very beautiful place."
Shooting all such scenes are, of course, dependent on the weather, which Baldvinsson says can change extremely quickly. "I think we are the authors of the saying, 'If you don't like the weather, wait five minutes'," he adds. "With Love on Iceland, we were unbelievably lucky with the weather. When we showed up on the set of the Bubble Hotel, it was pouring with rain. While we were driving towards the set, the director said we weren't going to be able to shoot. I looked at her and said: 'When you arrive on set, something beautiful is going to happen and it will stop raining.' She said: 'I know you're good, but you're not going to be that good."
But Iceland's fast-changing climate came to the rescue: "We showed up at the set and it was pouring with rain. We put on our rain gear and walked into the woods of the Bubble Hotel and, within five minutes, it had stopped raining and a triple rainbow just appeared over the set."
Another challenge for outdoor shoots in Iceland is the light. In the winter, the days are short and detailed planning is needed to make the most of the available daylight. "In the beginning, we knew there was only going to be about six or seven hours of daylight and, towards the end, there was only going to be about four," Gernhard says.
"So we did the interiors after dark, where it didn't matter whether it was day or night, or we could fake it."
And good planning during an Icelandic winter also means starting and finishing your day in the dark. "You arrive in complete darkness, you set up and you shoot for the hours of daylight – and then you wrap." Baldvinsson says. "So you try to utilise as much of the daylight as you can, because the specific blue light that Iceland has to offer is something different to other countries. Everything that's shot in Iceland has this special blue-ish feel to it."
By the third week of filming, the production had a daily ration of just four and a half hours of daylight. "Maybe because of that, they were like the fastest crew we have ever worked with," DiPippo says, praising both the Icelandic crew's professionalism and understanding of the time pressures. "And one of the things I'm really pleased about with Love on Iceland is that it doesn't feel like a dark movie. A lot of it was shot in darkness but, surprisingly, it doesn't feel like that. It's very open and bright and airy."
Obtaining permission to film in some of Iceland's natural wonders was the job of Hero Productions. "We secured all the permits, which can sometimes be tricky," Baldvinsson says. "Most of the land is privately owned by farmers and other residents, but we have connections with most of those people, so we know who to ask."
With national parks and government-owned property, there are other procedures to go through, but Baldvinsson says these can generally be concluded quickly, because the authorities know Hero and trust its professionalism: "They know us for our diligence and for taking good care of the land. Usually, when we show up at a place, we leave the land and property in a better state than when we arrived. For example, we get our people to remove all the trash left behind by tourists."
Love on Iceland ends with the friends musing on the possibility of a return visit to the bizarre and beautiful country that may just have changed their lives. "I would absolutely love to do it again," Gernhard says. "I would love to show the audience Iceland in the summer, because it's a whole different landscape of rolling hills. It's gorgeous."
Hallmark's DiPippo agrees: "One fantastic thing about Iceland is that, although people think of it as being a cold place, there are a lot of different looks throughout the year. In summer, it's a very different country. Finding the right story is obviously the first important step, but we had such a great time there that we'd love to go back."
So the love affair with Iceland may yet be rekindled.

OVERVIEW
MORE HERO
INFO
REYKJAVIK, IS
SUDARVOGUR 7
+354 663 1522
INFO@HERO.IS
© 2022 HERO PRODUCTION EHF. | PRIVACY POLICY



Instagram


Facebook


Linkedin


Link

© 2022 HERO PRODUCTION EHF. | PRIVACY POLICY